Hurry! Claim Your Premium Trump Dollars Today!

Collectors Edition

Newly Minted Notes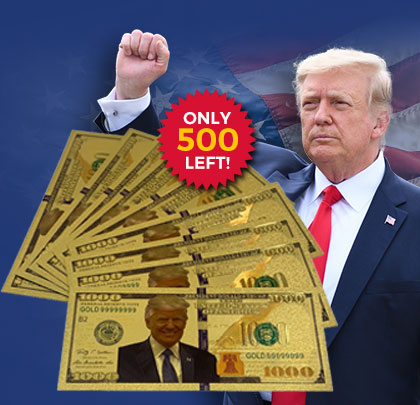 FREE
SPECIAL OFFER FOR TRUMP 2024 SUPPORTERS!
You've Qualified For This Newly Minted Trump Buck!
Golden $1,000 Trump Dollars
Handcrafted Golden Trump Wallet

FREE

Golden Ticket

FREE

$10,000 Trump Check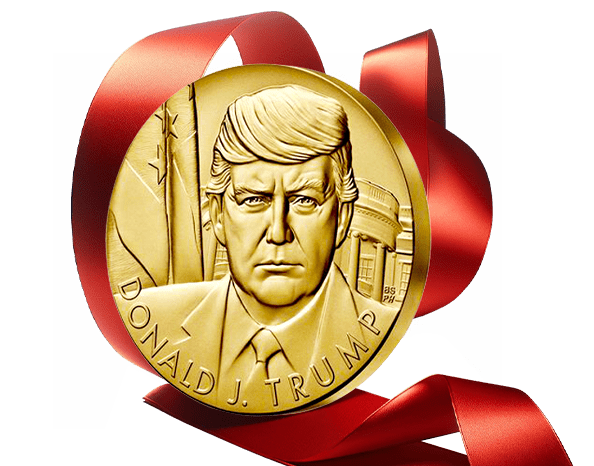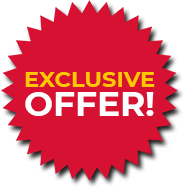 A Must Have Collectible
For Every Trump Supporter
The Golden Trump Dollar is a commemorative item that symbolizes President Trump's commitment to the principle of "America First". These golden notes are a powerful emblem of American freedom and patriotic pride.
Owning one of these $1,000 notes is an impressive way to show your support for the Trump campaign and its values.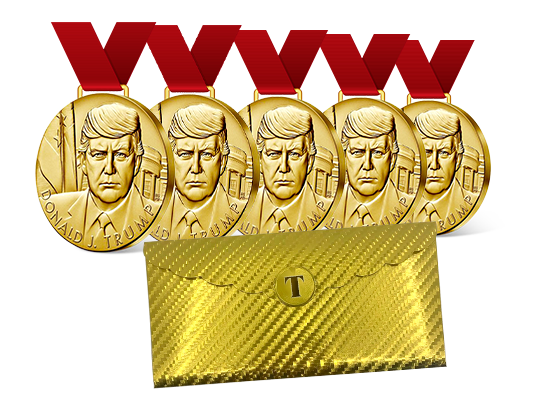 Order Your Golden Trump Dollars &
Get Up To 10 X $10,000 Trump Checks FREE!
Get up to 10 x $10,000 Commemorative Trump Checks included for FREE when you purchase your Golden Trump Dollars today! This is a once-in-a-lifetime opportunity to own a piece of history and support President Trump.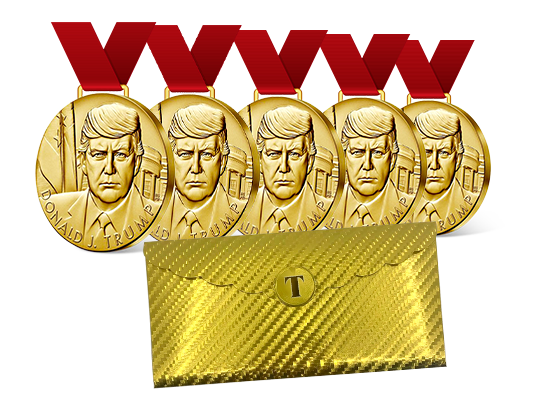 Celebrate & Support President Trump
Golden Dollars + Wallet + Checks + Golden Ticket
Proudly Designed & Sold In U.S.A.
Perfect Gift Birthdays & Holidays
100% Money Back Guarantee
What's Included In Your
Trump Collector's Kit
When you order your Golden Trump Dollars from PresidentialNotes.com, you will receive an Official Collector's Kit.
This includes up to 10 x Commemorative $10,000 Trump Checks, a handcrafted Golden Wallet, a Golden Ticket and the Golden Trump Dollars themselves. Don't miss your chance to take advantage of this opportunity.


Trump Dollars
These premium $1000 stamped golden notes are a one-of-a-kind and are valued by supporters and patriots across America.

Collectors Edition


Trump Checks
All orders come with a set of $10,000 Trump Checks. This is your only opportunity to acquire these valuable commemorative checks.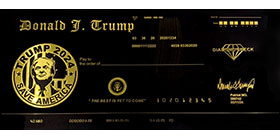 FREE -
Included In Your Order


Golden Ticket
This Golden Ticket attests to your status as one of the few true Trump supporters to own some of the newly mintned Trump Bucks.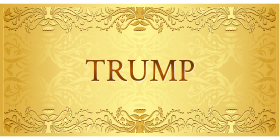 100%
Genuine Product

Trump Wallet
A beautiful premium quality wallet to keep your Trump Dollars & Checks safe, also makes for a perfect gifting accessory.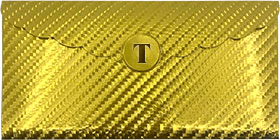 Great For
Gifting
Order Your Golden Trump Dollar &
Get Up To 10 X $10,000 Trump Checks FREE
#Trump2024 #SaveAmericaAgain
Claim Trump Dollars

Hurry! Stock Selling Fast!
Get Ready To Own
A Piece Of Trump's Legacy
These notes are expertly crafted and made with the highest quality materials, ensuring they last.
They make the perfect gift you can pass down to your children as a cherished inheritance.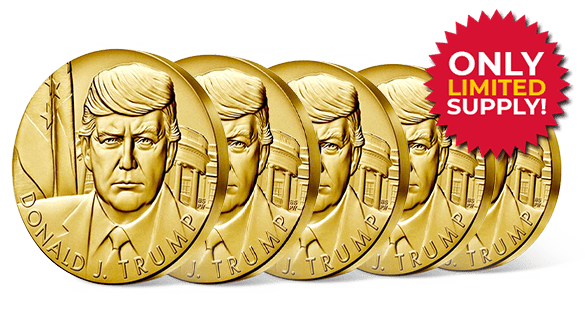 High-quality golden foil featuring the face of 45th U.S. President Donald Trump.

Each note is stamped with $1,000, making them a prestigious addition to any collection.

Honor President Donald J Trump as part of this nationwide promotion for US residents.

These newly minted Trump Buck notes are a unique and valuable keepsake.

You'll be able to treasure your Golden Trump Bucks for years to come.
#Trump2024 #SaveAmericaAgain
Claim Trump Dollar

Hurry! Stock Sellingn Fast!
100% SATISFACTION
Premium Money Back Guarantee
Your purchase of the Official Collector's Kit comes with an iron-clad 60 Day Money Back Guarantee, on all items individually & the complete set collectively.
So in case you are not happy with the purchase, or even if there has been a damage during transit & delivery, just contact our customer support team and we will refund your money, no questions asked.
No Hassles | No Questions |
No Waiting | No Delays | Email Us For A Full Refund
Customer Reviews
What True Trump Supporters Say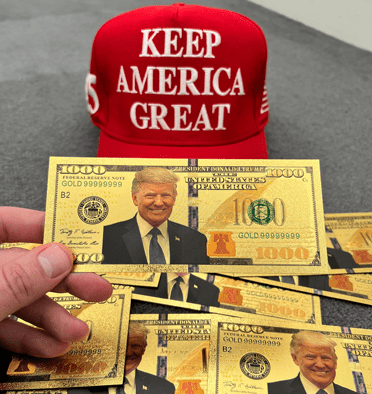 My dad just loves them!
I got this for my dad as a holiday gift after I saw them on Telegram and it turned out to be the perfect choice. With all the recent Trump rallies, I know he is proud to add these $1,000 notes to his Trump collection. The quality is excellent and I appreciate that it arrived on time. Thanks for making this a great gift.
Sophie H.
Verified Purchase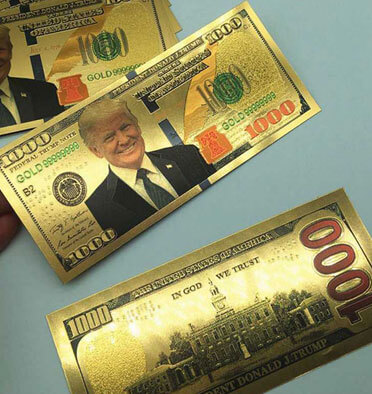 ABSOLUTELY STUNNING!
I just got my $1,000 notes and took a picture to show you how shiny and "GOLD" they are. It's hard to capture their true beauty in a photo, but trust me, they are absolutely stunning. I'm definitely going to order more to hand out to my fellow supporters at the next Trump rally.
Jeff K.
Verified Purchase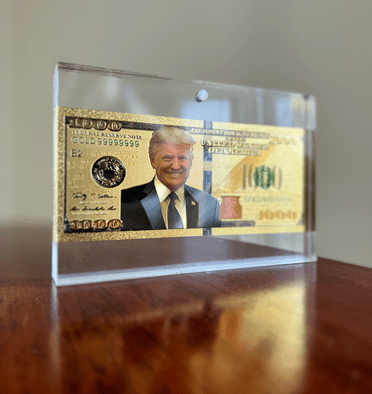 HUBBY IS VERY IMPRESSED!
My husband is a huge Trump supporter and loves collecting political memorabilia, so I knew these $1,000 notes would be the perfect gift for him. He was thrilled when he opened them and immediately started showing them off to our friends. The quality is top-notch and they are a prized addition to his collection.
Janette P.
Verified Purchase

BEST WAY TO SUPPORT TRUMP!
I recently purchased some Gold Trump notes and I am absolutely thrilled with them! As a huge fan of President Trump, I felt this was the best way to show my support and make a statement. The thickness of the notes is outstanding and they sit nicely in my safe. Buy some so we can help get Sleepy Joe Biden out of the White House for good!
Richard F.
Verified Purchase

Pete S.
Verified Purchase

Reviewing
100 x Trump Notes

Incredible Craftsmanship!
I was blown away by the quality of these $1,000 notes and the free Checks that came with my purchase. I didn't expect them to be so well-made and well-presented, but I'm definitely adding them to my Trump Collection. The attention to detail and superior craftsmanship really stands out.

Mike J.
Verified Purchase

Reviewing
50 x Trump Notes

Perfect For Any Collector Like Me!
I collect rare coins, notes, and other valuables, and these Trump $1,000 notes are a great addition to my collection. They are expertly crafted and made with high-quality materials and I'm proud to add these to my collection.

Chase H.
Verified Purchase

Reviewing
100 x Trump Notes

Framed On My Wall!
As a huge Trump supporter, I have a lot of Trump gear, but these $1,000 notes are definitely one of my favorites. I got them framed along with the free checks and they look awesome on my office wall. They're a really cool and unique addition to my MAGA collection.
#Trump2024 #SaveAmericaAgain #TrustThePlan
Claim Trump Dollars

Hurry! Stock Selling Fast
FREQUENTLY ASKED QUESTIONS
WE'VE GOT THE ANSWERS